The Courtney – Off the Grid
Ask us about next availability
Latest happy customer in November: Kelly from VIC just received The Sophie
2 Bedroom Portable Home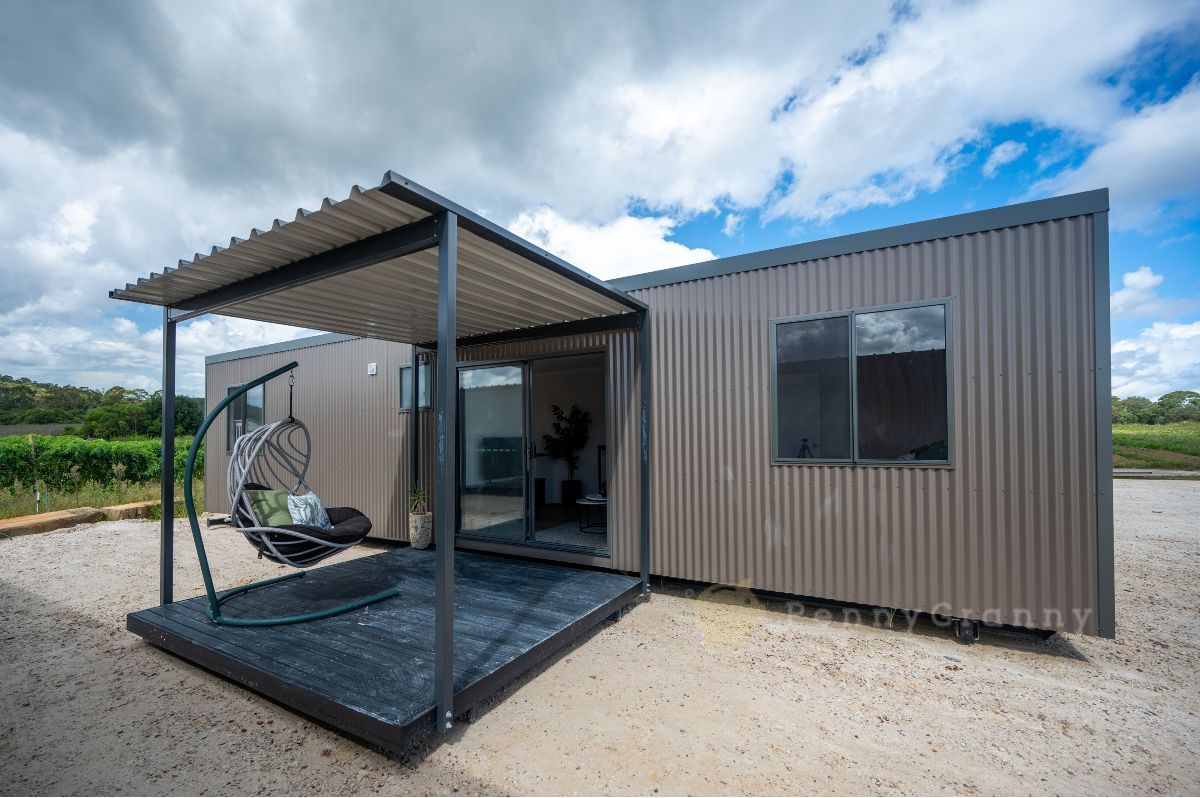 **The images shown on our website may vary slightly from the actual product. Decks, pergolas, furniture etc are not included in the hire charge.
**Free Delivery in NSW & QLD, within 200km of the state CBD. Delivery to NSW is subject to availability. Need it in VIC? Ask our Team!
***Free Delivery in QLD, within 200km of Brisbane CBD. Need it in another state? Ask our Team!
+Please note, residential hire is GST free, 10% GST applies to commercial hires
The upgraded version of our biggest Portable Cabin, The Courtney, is a true game-changer when it comes to off-grid living. With additional features and amenities designed to bring you closer to self-sufficiency, this cabin is perfect for those seeking a sustainable and independent lifestyle.
One of the standout features of this upgraded cabin is its gas-cooktop, gas hot water system, and gas fridge connection. These features allow you to cook, heat water, and refrigerate your food without relying on the grid. The gas plumbing system is also designed to run your fridge efficiently, minimising energy consumption and reducing your environmental impact.
Another impressive feature of this upgraded cabin is the addition of gutters, which allow you to collect rainwater and use it for various purposes around your home. This rainwater collection system is an excellent way to reduce your reliance on the grid and live more sustainably.
Overall, this upgraded version of The Courtney Portable Cabin is a true gem, providing all the features and amenities you need for comfortable off-grid living. With its modern design, high-quality finishes, and attention to detail, this cabin is both stylish and practical, making it the perfect choice for those seeking a sustainable and self-sufficient lifestyle.
Features
Gas Continuous Hot Water System
2 Burner Gas Cooktop
Connection for LPG Gas Fridge
Gutter Kit with Installation Clips
Fully Insulated Construction
2 x Reverse Cycle Split Systems installed in the bedrooms
Quality Finishes
Sizeable Kitchenette
Melamine Benchtops
Vinyl Imitation Wood Floors
Glass Sliding Doors & Windows
Fly Screens & Blockout Blinds
Designed and manufactured in Australia for Australian Conditions
Off the Grid Water Supply
Our Off-Grid Courtney Portable Home comes with a gutter kit with an easy-to-install clip system. The gutter will collect rain water as it flows off the roof, which can then be collected in a rainwater tank. To make full use of your rainwater, you will need a supply system with a suitable pressure pump capable of delivering water at, or near mains pressure.
If you live in an area with low rainfall, you can arrange for water cartage service and have clean drinking water delivered to your water tank on a regular basis.
Off the Grid Greywater & Wastewater Management
The Courtney Portable Home comes equipped with a wastewater outlet which can be connected to your septic tank, if you have one on your property. If septic services are not available onsite, a portable waste holding tank can be used to hold household sewage. They are self-contained and do not need to be connected to any external services. They will need to be emptied (called "pumping out") by your local waste disposal company regularly.
There are several different options for storing or getting rid of greywater, which is domestic wastewater generated from the shower, laundry and sink. The Courtney cabin comes with a greywater outlet.
Collect in a Bucket or Large Container
The simplest way to reuse greywater is to place a bucket or container under the greywater outlet. Simply take the water-filled container and water the plants with it, or flush the toilet with it.
Collect in a Greywater Filtration System
A professional greywater system can be used to pass the water through multistage filtration mechanisms. They then move the filtered water into irrigation systems that automatically water your garden.
Send to Sewer
This method doesn't involve reusing greywater, but if you have access to a sewer or septic system that's not at capacity, you could just send your water there.
Other options include installing a surge tank or a branched drain system (for long-term off grid living).
Off the Grid Energy Source
When it comes to an alternative power source, off grid solar system is the most common choice. PennyGranny recommends three off grid solar system options that can be purchased from our partners and which are suitable for our Portable Homes. Each option include examples of what appliances can be run from the setup – please note, this will ultimately vary depending on a person's power usage habits.
Each off grid solar system kit is plug and play and includes all the basic wiring and mounting frames for the solar panels. The included mounting frame kit is a modular racking system that goes on to the existing roof screws. It is designed to be mounted flush on the roof and a cable run down from there to the power unit. No hardwiring is required, you will only need to run an extension cord from the provided outlets to the appliance:
Specifications
Footprint 12m x 3.4m, 40.8 sqm in total
Ceiling Height: 2.4m
Standard Fresh Water Fitting ready to be connected to the water supply
Standard Waste water Outlet (50mm) ready to be connected to the waste tank
Standard 3 Pin 32Amp Power Input