The Pauline
Available for immediate delivery
Latest happy customer in November: Kelly from VIC just received The Sophie
2 Bedroom Prefab Home, Tiny Home on Wheels
Additional costs apply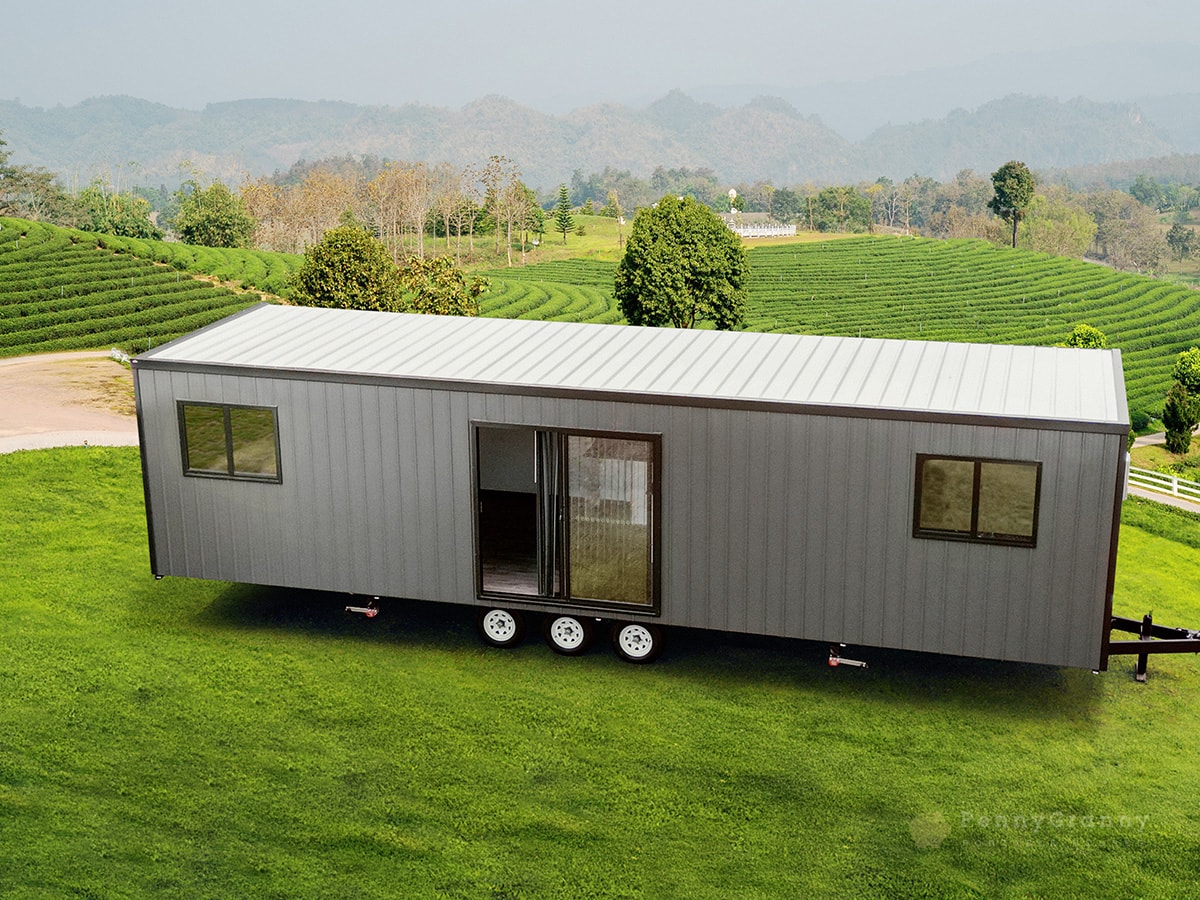 **The images shown on our website may vary slightly from the actual product. Decks, pergolas, furniture etc are not included in the sale price.
"The Pauline" is a true masterpiece of compact and convenient living. As our very first model on wheels, this Tiny Home offers a delightful combination of mobility and comfort, making it an ideal choice for those seeking a versatile and efficient living space.
With two bedrooms, this Tiny Home ensures that you have ample room for comfortable living. The corner kitchen is a focal point of this tiny haven, boasting modern cabinetry and a gas cooktop for preparing delicious meals on the go. The gas hot water unit ensures a warm and inviting environment, allowing you to enjoy all the comforts of home.
This portable building comes equipped with a caravan plug for power connection and offers an additional gas connection, providing options for a gas heater or gas-operated fridge.
And of course, one of the standout features of "The Pauline" is its engineered trailer system, allowing it to be registered as a Caravan/Tiny Home. This mobility provides the freedom to explore new horizons and experience the beauty of different landscapes, all while having the comforts of home right at your fingertips.
Features
Fully Insulated Construction
Reverse Cycle Air Conditioning
Continuous Hot Water System
Quality Finishes
Sizeable Kitchenette
Melamine Benchtops
2 Burner Cooktop
Vinyl Imitation Wood Floors
Glass Sliding Doors & Windows
Fly Screens
Engineered Trailer System with the ability to be registered as a Caravan/Tiny Home
Additional Gas connection for the gas heater or gas-operated fridge
Designed and manufactured in Australia for Australian Conditions.
Specifications
Footprint 11m x 3.4m, 37.4 sqm in total
Ceiling Height: 2.5m high side & 2.4m low side
Standard Fresh Water Fitting
Standard Waste Water Outlet (50mm)
15Amp Dual Caravan Plug setup for power
Our Quality
At PennyGranny™ our transportable homes are either built by us or bought in bulk from most reputable Australian manufacturers built to our specification. As a hire company we need to make sure that our buildings used in our hire fleet are built to last many years and can withstand harsh Australian conditions. When you buy a portable home built by a third party supplier, you can be sure that we've done all the hard work of only choosing the Australian suppliers that deliver a high quality product. All of the portable homes offered for sale are brand new, same homes that would otherwise be used in our hire fleet, and due to our buying power brought to you at competitive prices.
Want to Try Before You Buy?
Would you like to experience the quality of our prefab transportable homes before making a purchasing decision? You can now rent any of our buildings and we give you a unique opportunity to change your mind and purchase the building instead within the first 2 weeks of your hire term.
Council Approvals for Portable Prefabricated Homes
Our experienced Town Planner will lead you throughout the entire process to take the hassle away from you. See Council Approvals for Portable Homes.